F5 VIPRION Chassis and Blades

A range of highly programmable, cloud-ready hardware options, from entry-level appliances to the highest performing application delivery controller in the world.
The hardware you need—only from F5.
Get the agility of DevOps with the scale, security, and investment protection you need for both established and emerging application architectures. The VIPRION platforms deliver quick and easy programmability, multi-vendor service orchestration, software-defined hardware, and line-rate performance. Accelerate private clouds and secure critical data at scale, while lowering costs and future-proofing your infrastructure.
Automate cloud integration
Reduce deployment time with support for major private cloud stacks, including OpenStack, VMware, and Cisco. Improve development time with programmatic toolkits, leveraging customizable app templates, a JavaScript community, and over 250K+ node.js libraries.
Consolidate application services
Consolidate more application services and security point products with F5 than with any other ADC vendor, reducing your the cost of ownership by up to 53%.
Simplify and scale SSL
Improve end customer confidence with the fastest way to achieve A+ Grade SSL rating. F5 platforms protect your critical data by supporting all major encryption methods, including emerging Forward Secrecy.
VIPRION Chassis and Blades
The VIPRION platform empowers you to dynamically scale and adapt. Add blades without disrupting your apps or users, extending superior power without adding devices. Choose from chassis and blade options that meet both enterprise and service provider requirements.
VIPRION Chassis and Blades:

Up to twoB 2250 blades
2U industry standard rack-mount chassis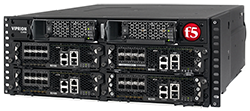 Up to four B2250 blades
4U industry standard rack-mount chassis
80 PLUS Gold Certified power supplies

Single Intel 10-core Xeon processor
64GB RAM
One 800GB solid state drive
Four 40GbE ports
48M concurrent connections with 80Gbps of L4 throughput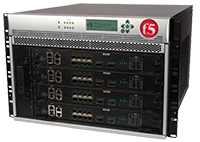 Up to four B4450 blades
7U industry standard rack-mount chassis
Industry-first 40GbE and 100Gbe (QSFP28) ports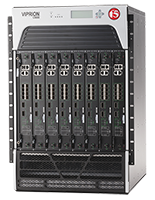 Up to eight B4450 blades to achieve maximum throughout
Up to 48 vCMP instances
16U industry standard rack-mount chassis
80 PLUS Gold Certified power supplies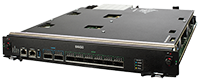 Two Intel 12-core processors
256GB RAM
1.2 TB solid state drive
Two 100GbE ports and Six 40GbE ports
180M concurrent connections with 140Gbps of L4 throughput