F5 Enterprise Solutions - Application Delivery

Build a unified application delivery architecture that provides security, stability, and agility.
Today's app revolution requires an application delivery evolution
Is load balancing dead? No, it has evolved into something much greater. That something is application delivery, which includes traditional load balancing for delivering any application, plus a range of security, performance, and management services. These services help you follow through on the promise of your applications.
Apps have been F5's focus for 20 years. As leaders in the application services industry, our expertise in helping power fast, available, and secure applications forms the foundation for our entire catalog of solutions.
Perform flawlessly. Always be available.
Customers and employees rely on your applications. Customers expect fast, uninterrupted access to rich, dynamic applications wherever they are. Employees expect the same. And they're often accessing enterprise applications on mobile devices, including their own.
If an organization fails to meet customer expectations, those customers can easily find an alternative. And when employees abandon enterprise applications, productivity is at risk. To keep all users satisfied, F5 solutions help accelerate application response time, minimize latency and delays, and reduce the number of data round trips necessary to complete a web request—so apps just work.
It's time for a more unified application delivery architecture.
You've always delivered applications. Most of them changed infrequently and deployed from your on-premises data centers. They've streamlined processes, provided new services and offerings, and enhanced customer experiences.
Today, you're managing hundreds—even thousands—of applications, including emerging applications that are updated often. They're delivered from hybrid environments, including on-premises data centers, private cloud, public cloud, and SaaS. As a result, your infrastructure could be relying on application delivery methods that work in opposition.
App environments are a bit like snowflakes.
You don't have to choose between maintaining security and stability, and providing the agility DevOps requires to support rapid change. It's possible to bridge both environments with an architecture that provides these benefits for every single one of your applications.
Your application landscape, whatever it looks like and regardless of volume, requires the right services. With a unified application delivery architecture, you can provide optimal security, performance, and availability services to each one of your applications—wherever and however they're deployed.
Key architecture components
Now that you're delivering apps across your environment—many times with traditional IT resources—ensure successful delivery of those apps with these five crucial components:
Application Delivery Services
Deploy advanced application delivery services such as DDoS protection, WAF, DNS, TCP optimization, and global server load balancing to keep applications secure, fast, and always available.
Service Delivery Platforms
Leverage the right mix of hardware devices, software, lightweight proxies, or a cloud-based application service platform for your hybrid environment.
Explore the BIG-IP Hardware >
Explore the VIPRION Chassis & Blades >
Explore the BIG-IP Software >
Explore the BIG-IP Virtual Editions >
Service Templates
Save time, ensure consistent deployments, and reduce the operational risk of manual deployments by codifying standard configuration elements for a particular service.
Platform Management Systems
Cut administration overhead by providing tools to manage, monitor, and upgrade Application Delivery Controllers (ADCs).
Explore BIG-IQ Centralized Management >
Container Integrations
Integrate F5 application delivery solutions with your container environments for increased availability, automation, security, and visibility.
Intelligent DNS Scale:
Addressing the DNS Query Explosion
DNS is the backbone of the Internet. It allows humans to find domain names like www.f5.com instead of the numerical IP addresses web servers require. It is also one of the most vulnerable points in your network. DNS failures account for 41 percent of web downtime, so keeping your DNS available is essential to your business. F5 can help you manage DNS's rapid growth and avoid outages with end-to-end solutions that increase the speed, availability, scalability, and security of your DNS infrastructure. Plus, our solution enables you to consolidate DNS services onto fewer devices, which are easier to secure and manage than traditional DNS deployments.
Optimize Availability, Consolidate with Scale
The F5 Intelligent DNS Scale solution ensures that your customers—and your employees—can access your critical web, application, and database services whenever they need them. F5's end-to-end DNS delivery solution enables organizations to build a strong DNS foundation that maximizes existing resources while remaining agile enough to support both existing and future network architectures, devices, and applications.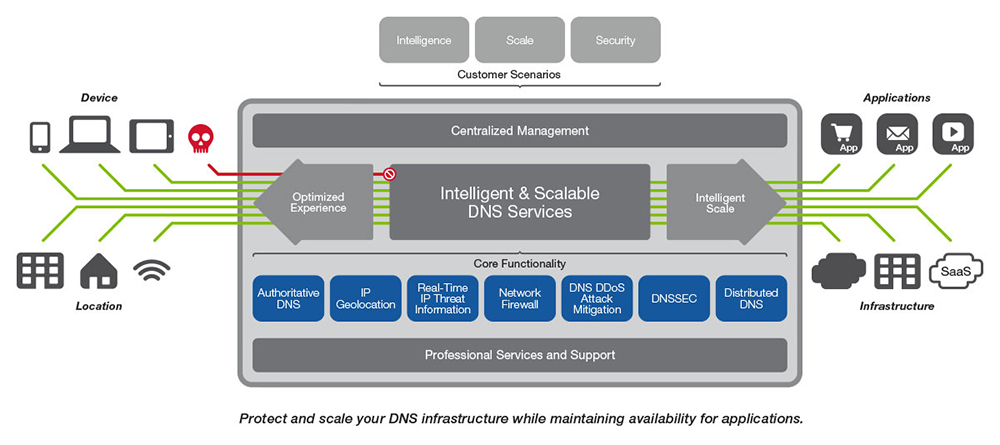 Improve Performance, Reduce Costs with BIG-IP
In the last 5 years, the volume of DNS queries has risen by over 100 percent. With BIG-IP, you can scale globally and across environments to meet your organizations constantly growing DNS need while improving performance and saving infrastructure costs.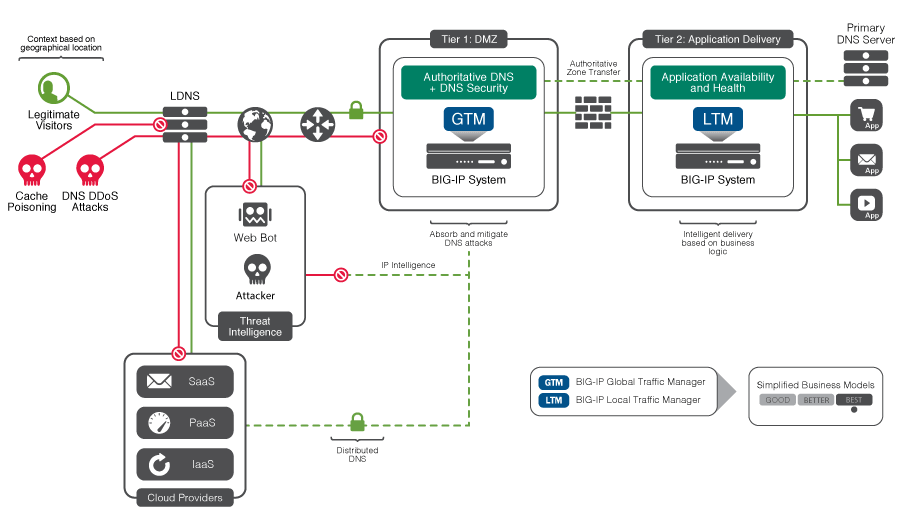 From start to finish, we've got you covered.
F5 provides consulting services to support customers throughout the product lifecycle. Starting with expert support planning and architecting solutions, through implementation and optimization services, F5 is there to help our customers every step of the way.
Application Availability Between Hybrid Data Centers:
Between On-Premises Data Centers and the Cloud, F5 Ensures Access to Your Business-Critical Applications
Reliable access to mission-critical applications is a key success factor for enterprises. For many organizations, moving applications from physical data centers to the cloud can increase resource capacity and ensure availability while reducing system management and IT infrastructure costs. Achieving this hybrid data center model the right way requires healthy resource pools and the means to distribute them. The F5 Application Availability Between Hybrid Data Centers solution provides core load-balancing, DNS and acceleration services that result in non-disruptive, seamless migration between private and public cloud environments.
Bridge the Cloud Gap with BIG-IP
The flexibility of BIG-IP offers a key advantage when building a hybrid model. Whether you're deploying services in a traditional data center or the cloud, the BIG-IP platform enables consistent, seamless delivery of services regardless of environment. While bridging the gap those two worlds, BIG-IP also routes traffic across the best lane of the bridge at the best time. The overlay of intelligent management provided by BIG-IQ gives organizations the awareness they need to distribute load-balancing resources effectively and ensure availability of their business applications.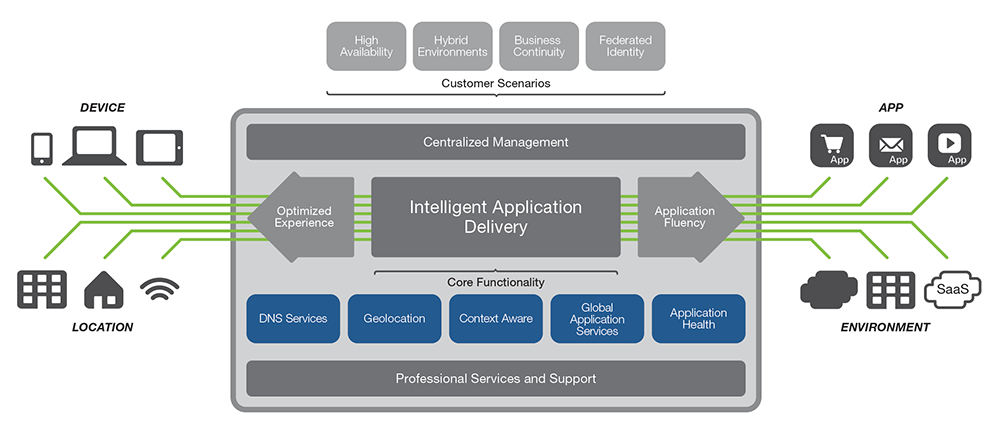 Design and Deploy Across Locations
F5's recommended architecture offers a simple and robust design for managing traffic into, within, and between hybrid data centers. Best practice guidance enables data center and network architects to design and deploy a hybrid infrastructure that is stable and easy to manage.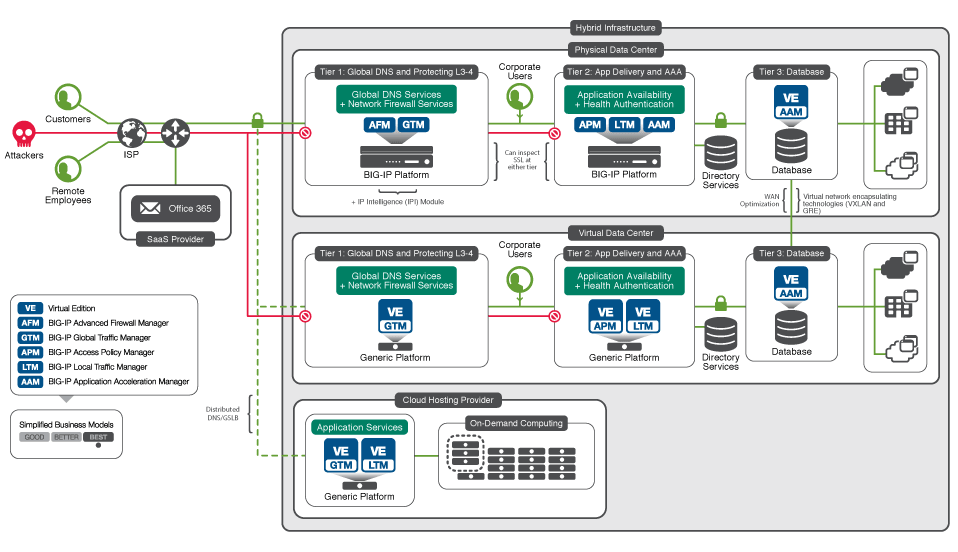 From start to finish, we've got you covered.
F5 provides consulting services to support customers throughout the product lifecycle. Starting with expert support planning and architecting solutions, through implementation and optimization services, F5 is there to help our customers every step of the way.