The Latest F5 Networks News

Product and Solution Information, Press Releases, Announcements
Announcing F5 Essential App Protect and Amazon CloudFront Integration – Secure, Fast and Available as a Service
Posted: Tue Oct 20, 2020 02:26:57 PM

Today's customers expect a lot from their digital transformation initiatives. Many have seen years of transformation take place in just the past several months. And while adapting to a global crisis has been a catalyst, the long-term requirements for many companies remain the same while the urgency has increased. They want to deliver a superior customer experience. They want business agility, the ability to respond rapidly to changing market conditions. And, ultimately, they want return on their investments.
Cloud computing is a critical enabler in all three of these areas. It allows customers to reduce the time from designing an application to having it run in full production, significantly improving agility and reducing time to market. But with this agility, comes increased risk as the traditional network perimeter all but dissolves and the threat surface increases exponentially. As more companies move more workloads to the cloud and look to re-platform, security continues to be one of the most important considerations for ease of use. This is why security in the cloud is such a high priority for F5.
For that reason, we are pleased to announce the integration between F5 Essential App Protect, an instant out-of-the-box SaaS security solution for protecting web applications, and Amazon CloudFront, a fast content delivery network (CDN) service from Amazon Web Services (AWS) that securely delivers data, videos, applications, and APIs to customers globally with low latency and high transfer speeds, all within a developer-friendly environment. F5 leverages the power of AWS to provide customers with caching capabilities for their applications that reduce costs, strengthen security, and increase performance—all in a single Software-as-a-Service (SaaS) solution. This means higher long-term return on the investment customers are making in their applications and a better experience for their users.
To further understand why this integration is significant, it's helpful to take a quick step back. Companies increasingly rely on different expertise and skillsets, like DevOps, DevSecOps and app developers, to work with NetOps teams to manage the sprawling application infrastructure that is driving their accelerated digital transformation. Our mission is to provide customers a broad set of enterprise-grade services across the application data path, enabling applications to adapt to the constant changing conditions of their environment. And this increasingly means we need to deliver services that meet the needs of that broader set of application stakeholders—from DevOps who want to innovate quickly to NetOps who need performance and reliability to SecOps who must protect customer data at all costs.
This requires continuous transformation of our own business: redefining who we build our solutions for, who and how we serve, where we invest our resources, and how we continue to help customers deliver extraordinary digital experiences. And thinking differently about disruption internally, from creating startup-like incubation projects to acquisitions like NGINX and Shape.
How it Works
We are delivering this through the Amazon CloudFront edge in-line with Amazon CloudFront deployments, fully managed by F5 Essential App Protect. This gives customers the ability to set up and control the caching functionality of CloudFront through the Essential App Protect user interface and API. Consumable in pay-as-you-go or through private offer, the new solution is available now in AWS Marketplace or through our channel partners as a part of the AWS Consulting Partner Private Offer (CPPO) program.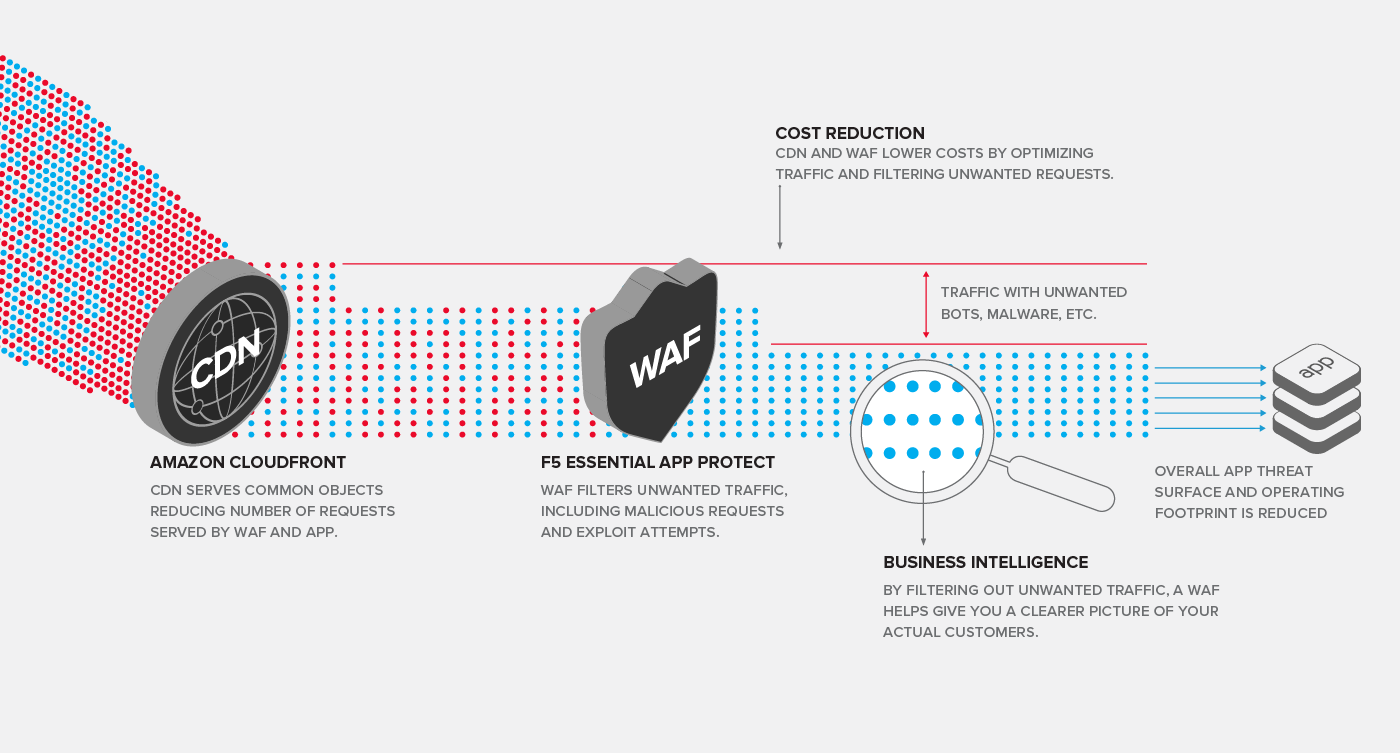 Better Together
All of this is a critical reason our relationship with AWS has grown so strong over the past several years. We worked with the AWS SaaS Factory to create our first SaaS-based offering—enabling us to deliver these services 50% faster and enabling global access through AWS Marketplace 12 months more quickly. This work culminated last March with our CEO, François Locoh-Donou, announcing F5 Cloud Services during his keynote at the AWS Summit Santa Clara 2019.
Since then, our work with AWS has continued to accelerate. Last fall, we announced a Strategic Collaboration Agreement designed to define and extend the relationship to serve the needs of companies migrating and building apps for hybrid and cloud environments. This provided a framework for the product development and engineering teams of both companies to collaborate and explore different scenarios integrating F5 with AWS services. Ultimately, we want to make it easier for customers to digitally transform their offerings and consume services through AWS Marketplace.
"The Amazon CloudFront and F5 Essential App Protect integration is a significant milestone in our Strategic Collaboration Agreement. From contract to co-development in less than one year, AWS and F5 are working closely together to deliver a dynamic solution maximizing application security for our CDN customers." – Prav Tiwana, General Manager for Amazon CloudFront, Amazon Web Services, Inc.
"The security industry is full of 'relationship' announcement noise claiming to add value with not much significance. Alternatively, F5 and AWS relationship is the real thing—two industry leaders providing complete service integration and improving the functionality and security of their customers. This is a win for F5 and AWS, and a win for the customer." – Chris Steffen, Research Director for Information Security, Enterprise Management Associates
This is just the beginning as we continue to explore more ways our two companies can come together to help customers deliver more value through their cloud applications.